The World Economic Forum ranked Japan at 105th place by its Global Gender Gap Index
The World Economic Forum (WEF) has been publishing the World Economic Forum Report since 2006. The WEF invented the Global Gender Gap Index (GGGI) to identify and create appropriate policy framework to improve gender-based disparity. The WEF annually estimates the GGGI, by quantifying its gender-based differences in the four areas: (1) economic participation and opportunities, (2) education attainment, (3) health and survival, and (4) political empowerment. The WEF, then, ranks countries by their overall GGGI. The 2013 Report revealed that Iceland ranked first at the GGGI of 0.8731, and Japan ranked 105th (GGGI=0.6498), among 136 countries. Here, the GGGI of 1.0 is interpreted as "no gender gap." This means that Japanese women posses only 65% of what male counterparts are enjoying. Japan has one of the widest gender gap among developed countries. When we take a closer look at the four subsets of GGGI, it becomes apparent that the staggering gender gap in the political field is the largest contributing factor to Japan's extremely low ranking. With a GGGI of 0.0604, Japanese women's political participation and empowerment are mere a 6% of their male counterparts. The gender gap in the economic sector (GGGI = 0.5841) is also a large contributing factor.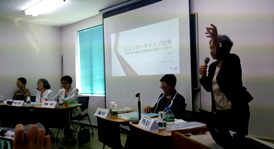 Alarmed by Japan's grim ranking, BPW-Japan convened a seminar entitled, "The Only Way is Up: What we need to do now from 105th place," on September 16, 2014 in Tokyo. Four experts discussed the challenges and opportunities in the area of politics, economy, health, and education.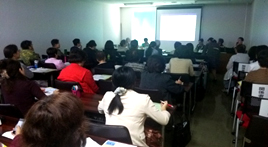 The seminar took place as part of side events of World Assembly for the Women in Tokyo (WAW! Tokyo 2014, - organized by Japanese government), where Prime Minister Shinzo Abe enthusiastically addressed at its opening speech that - creating a society in which women shine has been one of his highest priorities-. The seminar was co-hosted by BPW-Japan, and the Japan Association for Women's Education, and supported by the Association for the promotion of the Quota system. Approximately 50 people attended, including intellectuals, parties involved women's groups, and citizens concerned about gender-related issues.
After the discussion, we prepared and presented policy proposals which seek to eliminate the gender gap in the four areas defined in the GGGI. We also visited policy makers, and presented our concrete recommendations for creating policy measures to narrow the gender gap, which included the introduction of a quota system to increase the percentage of seats in parliament held by women. Collaborating with other groups, these proposals helped in the recent formation of an all-party parliamentary group working for the promotion of women's participation and active engagement in the political arena.
Policy proposals to seek for the elimination of gender gap by BPW-Japan (excerpt)
To increae the number of women in the political field, we propose to:
■ [to party leaders] for party's "proportional representation candidates," list men and women alternately
■ [to prime minister] actively promote women to the Cabinet posts
■ [to prime minister] consider the introduction of a quota system at the 2015 nationwide local elections
■ [to party administrators] make an effort to reach the interparty consensus to form the all-party parliamentary group, and discuss and prepare the legislative bills for the quota system
■ [to government officials] through extensive public information campaign, increase people's recognition about the significance of women's political participation, and also widely disseminate information about successful women policy makers in other countries
■ [to general public] get to know more about the important role of women's policy makers: encourage and support the candidacy of women

To promote women's economic participation, we propose to:
■ [to government] raise the women's labor force participation rate through more extensive childcare services such as after-school care program which meets more to the needs of working parents
■ [to government, business administrator, and labor union] establish fair assessment system of working hours and hourly productivity: establish a better working framework which employees can complete their own duty in time: establish fair evaluation system for flextime workers
■ [to business administrator] eliminate work-related gender stereotypes
■ [to government and legislature] review any biased systems against working women such as spouse tax deduction and pension systems
■ [to women workers] speak out any harassments they suffered at work place: willingly take a positive step to offered opportunities

To improve gender gap in the educational field, we propose to:
■ [to government] reduce financial burden of higher education: allocate more national budget to higher education: establish scholarship for women students:
■ [to educational institute administrator] increase number of women faculties, then more role models for women students, especially in science and medicine: establish support system for women to continue to do their research
■ [to business administrator, school teachers, and family members] break through gender-stereotypes such as traditionally fixed division of labor by gender
■ [to school administrators and teachers] promote women's career education: do training and capacity building programs for faculties to pursue career education for women students

To enhance better status of women health, we propose to:
■ [to policy makers] centralize health services and support systems to deal with women's diverse health issues which are caused by social issues such as poverty and violence: promote the legislation of basic law to support comprehensive women's health